Update: March 18th, 2018
We never really got around to visiting Copper Chimney after the visit described below. Being on lent and searching for good veg food made us dine here last month! And oh boy, was the food good! We ordered Tandoori Shashlik, Vegetable Kheema and paneer masala along with an assortmnet of rotis. Tandoori, Lachcha, naan, stuffed tandoori kulcha, you name it, we ordered all. The portion sizes seem to have reduced a bit, but the food was finger licking good! An added plus this time was the lovely service! To serve quality food with such consistently high standards over the years, no mean feat this!
A special mention to the way they were serving the folks at the table next to us. There were some six grandchildren dining with their grandparents and the care they were taking to make all the kiddos comfortable, exemplary!
The total bill for all the above came to 1300 which is absolute value for money considering the quality of the food! And like last time, we ended up with a lousy photo! This happens only when the food is amazing!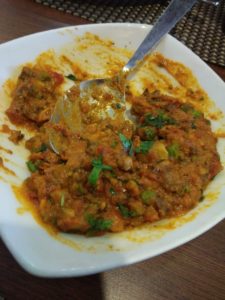 Last Visit
Copper Chimney is one place that has served consistently good food over the years. And the dum biryani is to die for, period!
After a hectic Sunday, we were still undecided on which restaurant to choose. That it should be North Indian was already decided upon. But we were still not sure where to head to, Moti Mahal or Copper Chimney. As usual kids voted for Moti Mahal as they really love the friendly staff there. But both my husband and myself were in the mood for some nice biryani since I was off to Kerala on a vacation after this. So Copper Chimney it was finally!
Ambience
The only grouse I have with Copper Chimney is that they don't accept reservations. You really have to be prepared to wait on weekends, but then you seriously don't mind it that much since you know some lovely food is awaiting you. Thankfully, we didn't have to wait at all and were shown to our table in no time at all. Now this is a huge restaurant with loads and loads of floor space. Though there are no partitions separating the tables, the tables are spaced apart in such a way that there is some privacy and you don't end up listening to the conversation at the next table. The open kitchen on one side is an added plus since you get to watch the staff working the tandoor and making the breads.
Food
We were handed the menu as soon as we had settled in. After having a quick look at it, we decided to order a half portion of the bread basket this time since that way we would get an assortment of their breads. Lahori Chicken and a portion of the chicken dum biryani completed our order.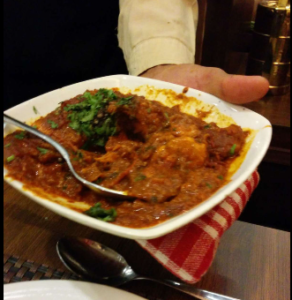 Usually, the service here is quick and courteous. But this time, they totally forgot about us, maybe becoz there was a huge party going on in the adjacent table. We had to literally flag down the person who took our order after 20 minutes and remind him of our order. But he was quick to apologize and within 5 minutes the food was served. The Lahori chicken was a revelation for me (husband is used to such food from up north, so its not a big deal for him). A medium spicy dish, this one was an absolute delight to have with the butter naan and tandoori roti. Next up was the breaking of the dum by the person who waited on us. The aroma really tickles your nose buds the moment the dum is broken. The biryani was as perfect as I remembered it from last time, perfectly flavoured and totally worth the price tag!
Verdict
If it was not for the slight hitch in service, I would have given this restaurant a 5/5!
Copper Chimney
Cuisine: North Indian, Mughlai
Address: 74, Opp. Hotel Maris, Cathedral Road, Gopalapuram, Chennai
Tel: 04428115770