So we had to attend a wedding in Kerala on a Sunday and as usual the planning was so good that we didn't bother to book our tickets! And like always my husband was ever ready to drive down 700kms rather than think about tickets! Even the kids are so used to this that the only question left was doing the packing at full speed late into Friday night and setting off early on Saturday morning.
Ambience
Usually we stop at the GRT hotel for breakfast. But this time we decided to try out a new place which we had seen on the highway during our past trips. A huge hotel with lots and lots of space, Park Plaza was impressive right from the word go. A small boulangerie displayed some lovely looking baked dishes in the hotel lounge. Since it was already 10.00 in the morning and we still had a long way to go, we didn't want to spend too much time here and opted for a la carte. But the breakfast buffet spread out at their restaurant, Tangerine was magnificent to say the least. Everything looked so fresh and clean. And the croissants, heavenly! One side of the restaurant is made of glass from top to bottom giving diners a nice view of the play area and the pool. The seating area near the play section is fashioned like a boat sailing at full mast. Pretty impressive!
Food & Service
We ordered for 2 plates of masala dosas, 2 plain dosas and 2 cups of masala tea. Sambar and 2 varieties of chutney accompanied the same. All of these got polished off in no time at all. The dosas were super as well. The final bill came to INR764, quite reasonable for a hotel of this nature. Service was top notch as well.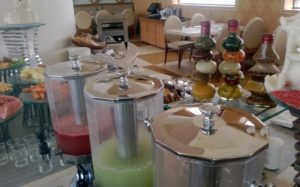 Verdict
So if you are making a road trip through Salem, be sure to make a stop here at Park Plaza and try out their Tangerine restaurant for some nice yummy food.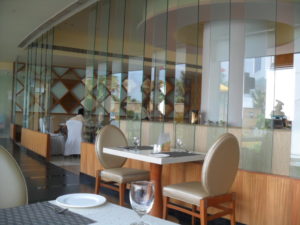 Tangerine

Cuisine: North Indian, South Indian, Continental
Address:

157/3-A Bangalore Highway,

Mamangam

, Salem
Tel:

0427 277 7999