Well, well, well, what do I say about Bombay Brasserie? The ambience is to die for and the glass house seating? Charming!
So many new restaurants have cropped up in the past few months that it is getting quite difficult to try them all out. We had been hearing so much about Bombay Brasserie that we decided to check this place out couple of weeks back. Being a pretty new restaurant we weren't expecting this place to be full and went ahead without reservations. Alas, the place was full to the brim and we had to wait a good 15  minutes before we were seated.
Ambience
While we were waiting, we got a chance to look around and the décor is just spot on. The waiting area outside and the glass house is nothing short of magical even in the afternoon. I cant wait to check this place out in the evening. When we were mentioning the same to the Maitre'd he observed that during dinner service, the place gets full by 7!
Food
Though it took some time to get a table, we were offered the menu as soon as we were seated. And then on, everything worked with clockwork precision. The water served was infused with lemon and mint, quite refreshing! With respect to the food, we ordered Galawati kebab, butter naans, Salli chicken and  black lentil dal.  Now, I am having the galawati kebab for the first time and I liked it. The Salli chicken was a Parsi inspired dish and was topped with fried potato crisps and was quite good too. But the star of the day definitely was the dal. Apparently its simmered overnight over charcoal! By the time we had finished our lunch, we were too full to have any dessert.
Service
The service was attentive and top notch except for one occasion when we had to ask for our gasses to be refilled.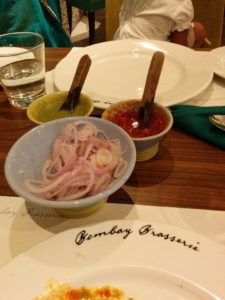 The pricing is a little on the higher side, but the overall experience is definitely worth it. Hell, they even have a way with giving your bill! The mouth fresheners are served in a quaint old glass in paper cones! This restaurant definitely needs to be on your "must visit" list!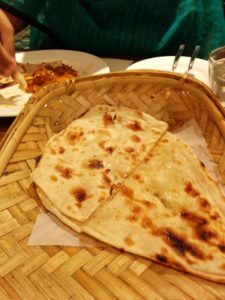 Bombay Brasserie
Address: 3, College Lane, Nungambakkam, Chennai
Tel: 044-42100709
Cuisine: North Indian