We are regulars at the Shafee Mohamed Road branch of Zaitoon. And by regular, we mean this place gets a visit from us at least once every month. The review mentioned here is that of our experience when we visited this place for the first time.
Ambience
We were a tad bit hesitant to try this place for so long after hearing about the service issues. We finally mustered up courage one Sunday afternoon. Its the vastness of the place that strikes you the moment you enter this place.
Food
Since its known for its Arabic fare, we ordered their Zaitoon spl barbeque as starter and butter naans, keema laham  and Chicken Sagoti for the main course. The starter and the Chicken Sagoti were totally yum! However, the keema laham was a bit bland for our liking. The Sharjah Shake at the end really took me back memory lane when I used to sustain on this alone! In fact, we again went to this place for lunch last Sunday. That does speak volumes about the food, doesn't it?
Service
We were seated right next to the service station and the fellow who took our order was a malayali, so service was surprisingly ok. However, service is definitely one area they ned to work on going by the reviews one reads online. Price wise, its absolute value for money too! All the above came to just INR 1200 and odd.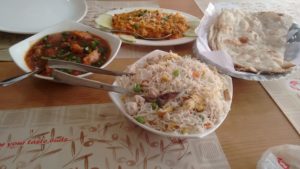 The above picture was taken on one of our recent visits!
Zaitoon
Cuisine: Arabian, Mughlai, Chinese, North Indian
Address: Shafee Mohamed Road, Opposite to Appollo Children's Hospital, Nungambakkam
Tel: 044 30853713