The Farm is a great place to catch up with your friends and generally unwind away from all the hustle and bustle of the city.  Spread over 70 acres, this farm allows you to spend quality time over a relaxed meal. However, if you are looking for a quick bite while on the go, this is simply not the place.
Grounds
We were at this place a couple of weeks back along with another family. There is no entry fee per se, and you can have a tour of the place and pet the horses and the cat at no extra cost. Horse riding comes with a separate charge though. There is a small kids pool complete with changing rooms and space where you can have a game of badminton (luckily, we had them in the car) and practically sit back and catch up!
Food
As far as the food goes, they allow the kids to make their own pizza which is another lovely experience for the kids. Ordered a cup of tea, hibiscus soda, French fries and three different pizzas and everything was top notch. The wood fired oven really brings out the flavor.
Service
The only issue if at all is the slow service. But we were in no hurry! The total bill came to 2500 which is absolute value for money considering the amount of time spent in the place. An added bonus is you get to buy organic veggies, fresh home made paneer and cheese!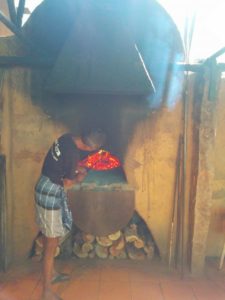 The Farm
Address: 1/277, Semmancherry Village, Old Mahabalipuram Road (OMR), Chennai
Tel: +91 9176050562
Cuisine: Steak, Pizza, North Indian