We had been hearing lot of good things about this place and finally visited Shaack for lunch couple of weeks back. The place was crowded even at 2.00pm and looked nothing like a shack.
Food
The kids were super hungry and we asked the starter to be served as soon as possible. Batter fried prawns were served 10 minutes later and though the kids had started complaining, they agreed the wait was worth it after finishing off the prawns within no time.  For main course, we had ordered a Godfather pizza, beef burger (sloppy joe) and a grilled chicken sandwich, chicken fried rice and a gobi manchurian for the kiddos. Yes, the menu is quite varied and you get to pick the best of a variety of cuisines. Its a lot of stuff for just 2 adults and 2 kids, but we were starting The Great Lent the day after so we ended up polishing off everything, well almost. After this huge meal, we really didn't have any space for desserts.
Now on to the pizza. Made with minced beaf, this was one hell of a pizza. We are on a burger tasting spree these days and this one rocked! It is juicy with the right amount of marinade and the bun is fresh. To top it all, it is not bland! The fried rice and curry were "yummy" as per the kids. The grilled sandwich is exceptional too.
Service
I am keeping the best part for the last. After having so many dishes, the bill ran up to just INR1000 and odd. Absolute value for money considering the portion sizes. The only downside if at all any was that except for the starter, all the other dishes took an average of about 15 minutes to be served. Service was ok at best.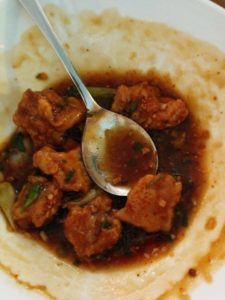 Shaack
Address: F-36, KG Galaxy, 2nd Avenue, Above Fab India, Anna Nagar East, Chennai
Tel: 044 45542929
Cuisine: a little bit of everything