Nando's has been on our list from the time they opened an outlet in Phoenix mall. But we kept putting it off owing to the distance. Though this outlet in Gopalapuram started some time back, we could find time to visit only a week back.
The interior at this place is brilliantly done. And the staff ever so courteous and friendly. We ordered one half chicken with peri peri sauce and sides of fries and coleslaw, one little grown-up's meal and one chicken breast wrap. The kiddie meal consisted of chicken breast strips with fries, mayo dip, cut fruits and a choice of juice (mango/orange). Myself and my hubby liked the food and tried out the various sauces too. Unfortunately, the children did not like their meal much and just munched on the cut fruit and fries. I ended up bribing them with a vanilla icecream with chocolate sauce to ensure they at least munched on something.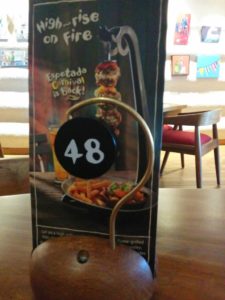 The final bill came to INR1600 and odd including all the taxes which is quite ok considering the location. It would have been a great meal if only my kids were happy about their meal as well.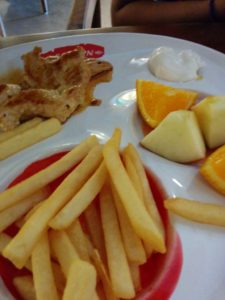 Nando's
Address: Meera Plaza, Cathedral Road, Gopalapuram, Chennai
Tel: 044 30853630
Cuisine: Portuguese