From the time Marina opened, it has always been on my "must visit" list. However, come weekend, I would always put it off for another day since my husband is not a seafood freak like me.
However last Friday, I had a near heart attack when Freddy came home from office and announced "how about going to Marina tomorrow".  After much prodding, I found out the reason behind this new found love, his colleagues had dined at Marina and they had some awesome North Indian and Bengali style fish curries!
To cut a long story short, we made it to Marina for dinner on Saturday and thoroughly enjoyed the fare. Right from the place the fresh catch of the day is displayed to their innovative ordering style and the top notch service, everything was perfect! And the food, a 11/10 if you ask me! But being a seafood lover, I am mighty biased!
When we reached the place, only half the tables were occupied, but half an hour later, it was packed to the brim. We ended up ordering golden fried prawns for the kids, parottas, lachha parathas, one north indian curry (no clue about the name of the same, the fish was grouper though), Malabar fish curry and rice. Both the golden fried prawns and the north indian curry were kick ass, but the star of the night was definitely the Malabar fish curry. Spot on in terms of flavor and easily the best I have had in a long while.
The final bill was around INR1650, I wont say it is value for money, but definitely try this place out if you are a seafood person!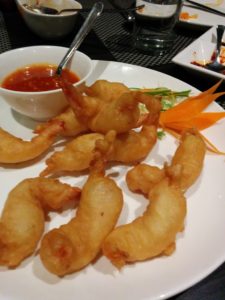 The Marina
Address: 39, College Road, Nungambakkam, Chennai
Tel: 044 30853780
Cuisine: Seafood, seafood and more seafood!