We settled for Cascade at KNK for a weekend lunch as I was down with cold and needed some comforting Chinese food. Though we were late, the place was packed and we had no other option but to sit near the entrance to the kitchen.
We quickly ordered a hot and sour chicken soup as soon as we were seated. A few spoons of the hot soup and I felt better already. After having a look at their menu, we opted for chicken noodles, veg fried rice, hunan chicken and fung chong beef. Both the side dishes were suggested by the person who took the order. We had also decided on a prawn starter, but he suggested it would be too much and in the end opted out of it. After about 10 minutes of finishing the soup, the main course was served. The kids loved the hunan chicken as it was mildly flavoured. But myself and hubby loved the beef dish better and ended up polishing it off between ourselves. The beef was tender, perfectly cooked and packed a punch. I didn't care much for the mushrooms in the beef dish though. Coming to desserts, they didn't have anything that was not cold, so ended up not having any.
Coming to the plus points, the portions are huge. Overwhelming in fact and we ended up packing the left overs. The service was ok too except for the couple of times they served cold water instead of lukewarm. However, being seated right next to the kitchen entrance was super irritating as we could hear the hustle and bustle of the kitchen (read: shouting match) every time the door opened!
Overall, considering the huge portions served, The Cascade  is absolute value for money.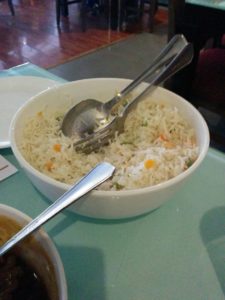 The Cascade
Address: 1632, Platinum Tower, Khader Nawaz Khan Road, Nungambakkam
Tel: 044 30853689
Cuisine: Chinese