Finally made it to Brick House Bistro last week. A house turned into a restaurant, you feel good the moment you see pictures of your favourite chefs on the wall!
The place was somewhat full and we ended up opting for the semi private dining space. Though a glass divider separates the tables, you still end up overhearing the conversation. This space is a bit small and you tend to feel a bit claustrophobic. Getting the server's attention is a bit tedious too. Now, I know most of the menu by heart and we opted for cheesy gooey fries with sausage bits, a spicy chicken sandwich and two ultimate bhb burgers, one chicken and the other, beef. The regular water served had something in it. The staff removed the same as soon as we pointed it out and we ended up with mineral water.
The  blue curacao and lemon iced tea were served first. Both were quite good. However, we had to wait quite a bit for the fries to arrive. Since it was a late lunch, all of us were a little restless by the time the fries was served. And then we tasted the fries. Oh boy, they were cheesy, gooey and then some more! The burgers and sandwich were served soon after. And the burgers sure lived up to their reputation. Juicy, huge and messy, that's how a burger should be. I definitely used up a whole bunch of tissues.
The spicy sandwich was a bit too spicy for the kids. Looks like there was some communication gap and they forgot to tone down the spice levels…As the children were already pretty full from the fries, I ended up packing one portion of the sandwich.
The final bill came to INR1377 which is pretty decent considering how filling the burgers were.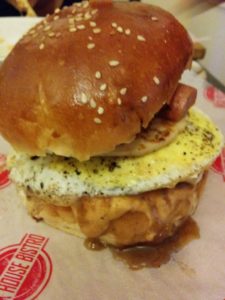 Brick House Bistro
Address: 9, S-Block, 6th Avenue, Annanagar, Anna Nagar East, Chennai
Tel: 044 26200766
Cuisine: American, European