D Café has been on my "must visit list" for ages! Finally made it here a week back and immediately fell in love with the decor.
Ambience
Though situated in the bustling T Nagar, once you enter this place, none of that craziness reaches you. And the quaint seating in the lawn and the tea cup makes you feel as if you are in fairyland. This place is definitely ideal for those looking for a quiet spot to unwind and catch up on each other's lives.
Food
As soon as we were settled in, we ordered a chicken satay, pollo burrito , desi pizza and an oriental grilled chicken sizzler. And then we waited. And waited. After waiting for at least 30 minutes and checking with the staff, we finally got our starter. Only a couple of other tables were full. We were informed that there was some confusion regarding the order Well, to cut a long story short , our satay finally arrived. When you have been waiting for over 30 minutes and when you are ravenous and you see such miniscule amount of food on a huge plate, you only get irritated and even more hungry. And to top it, the accompanying dip was jut mayo and there was no salad. And then came the burrito and the sizzler. The burrito looked and tasted yummy and the portion size was perfect for the price. The sizzler was served super hot and it tasted great, but again the portion was way too low. And I personally felt the rice was a tad under cooked.
Service
The pizza for the kids was quite good , but the person serving it had no idea how to serve one. First off, he did not have a pizza server with him and ended up using couple of forks (from the table) to separate the slices. You could make out he had no clue how to serve a pizza and was getting desperate by the moment that I ended up serving it myself.
The final bill came to INR1680, definitely on the higher side. Overall, the ambience is a definite plus, but the below par service and the small portions leave you a tad disappointed.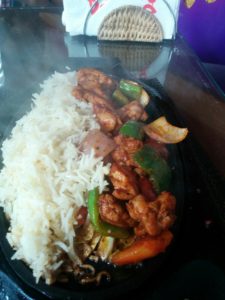 D Café
Address: Bazullah Road, T. Nagar, Chennai
Tel: 044 30853655
Cuisine: Italian, Mexican