February 2018 Visit
Tried this place again last week and the food quality is exactly how it used to be!  This time around we ordered onion rings, an Italian baked sizzler, hakka paneer and paneer tikka masala along with lachha paratha and naans.
Service was quite slow though it was not too crowded while we were here. The sizzler was served after we had finished every other dish! And routine requests for water and tissue paper took quite a bit of time. The food quality, however was amazing as always. The bill for all the above came to 1700rs. Considering the quantity, location and ambience of this outlet, the pricing is quite economical.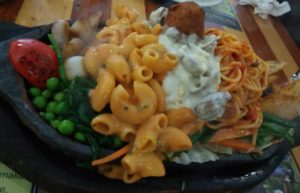 November 2016 Visit

We dined at Cream Centre a couple of weeks back. Though we always avoid this place owing to the serpentine queues, this time we had to wait for about 10-15 minutes only. The order was taken as soon as we were settled in.
As it was a late lunch, we ordered Mexican corn cheese balls, schezwan sizzler, crispy aloo tikki sizzler along with naans and paneer makhani. The aloo tikki sizzler was average at best. But the rest of the items were top notch as usual!
Service was a bit slow considering it was around 3:20 pm by the time we finished and asked for the bill. The final bill came to INR1655 which is pretty decent considering the good portion size.
Cream Centre
Address: 45, College Road, Near Madras Alliance Francaise, Nungambakkam, Chennai
Tel: 044 43561777
Cuisine: North Indian, Italian, Mexican