A quaint little café in the ground floor of a huge apartment complex with ample parking, that's what Sketch is. The signboard had always been intriguing and when one of my good friend suggested her birthday treat at the same place, I jumped right in! I loved the food so much that I went again with family couple of weeks back.
The food was amazing on both occasions and I was able to try their veg filo pastries, chicken burger, non veg platter (consisting of grilled prawns, fish fingers and Greek style lamb fritters), chicken Ceaser salad, Hawaian and Margarita pizza and wash it all down with piping hot chai in the end. Everything was beautifully plated and nice and yummy. The service is good too. Only grouse if at all any is that the dessert selection is quite limited.
The pricing here is absolute value for money. So if you are looking at catching up with your friends and family over a cup of tea and also having some yummy food along with it, then Sketch  is definitely a good option in Nungambakkam.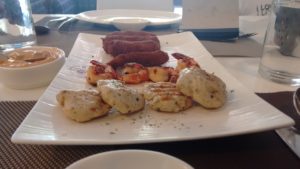 Sketch – The Café
Address: 41, Ground Floor, Anugraha, Nungambakkam High Road, Next To Taj Coromondel
Tel: 044 42064306
Cuisine: Italian, Continental