An outing to Phoenix and we ended up having lunch at the Kobe Sizzlers outlet. On a Sunday afternoon, the place was just about half full. And we were seated almost immediately.
Service was top notch throughout. However, it did take a good 25 minutes for our order to be served. We ordered a portion of cottage cheese balls, chicken club sandwich for the children (they strangely do not like pasta in any form), and a sizzling chicken sizzler along with a grilled steak sizzler for us.
The cottage cheese balls were tossed in an oriental sauce, and it definitely ticked all the right boxes. The club sandwich was huge and done to perfection. You cant go wrong with chicken and cheese 🙂 The grilled chicken sizzler was a mixed bag, my husband did not hate it and yet he didnt go ga – ga over it either. The well done grilled steak on the other hand was quite good, definitely not the best I have had, but its still there among the good ones. The final bill came to INR1800 and odd including taxes.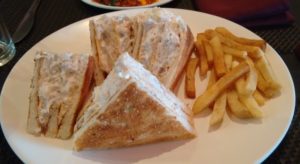 Kobe Sizzlers
Address: Phoenix Market City, Velachery Main Road, Velachery, Chennai
Tel: 044 – 30083714
Cuisine: Continental, Italian, Steakhouse