We stayed at InterContinental a while back and got to try their lavish breakfast buffet. This has to be the best of the lot this side. Even the one at Waters Edge, Temple Bay pales in comparison.
As usual, I got overwhelmed with the scale and was content with observing and trying a few that stood out from the rest. Service is top notch and then some more. They just shower you with so much attention and courtesy. The oriental section was a tad bit disappointing, the dimsum was nice, but the other custom noodle dish the hubby tried was a bit too oily for his comfort. The jalebis and samosas that were served at the table was as authentic as it could get.
None of us cared much for the South Indian section. The kids were engrossed with the amazing fresh fruit and juice counter. And I busied myself at the Continental counter. Their giant almond croissants literally take the cake! By far the best I have had in Chennai. The chef came over to see if we wanted anything else and I did point out a couple of spelling mistakes 🙂 And he insisted on serving us his signature pancakes or waffles and I hesitantly settled for waffles. And boy, was it delicious!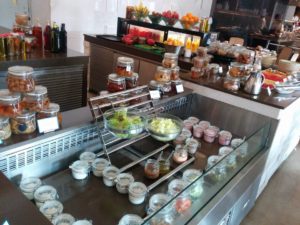 Out of all the counters, the continental section was a clear winner for us 🙂 As for the price, this buffet was included in our package so I am guessing somewhere around INR1500 per person….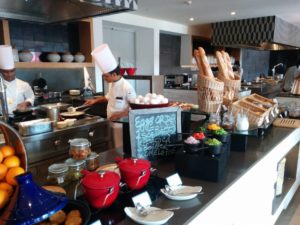 InterContinental
Address: InterContinental Chennai Mahabalipuram Resort, 212, Nemelli Village, Mahabalipuram, Chennai
Tel: 044 71720101
Cuisine: North Indian, South Indian, Continental