Manhattan Fish Market has been on my list for ages. But as I am the only seafood lover in the family, I had been postponing a visit to this place for quite some time. And then opportunity knocked in the form of friends visiting us from out of Chennai!
Being a weekend, we did book in advance and hence had to wait only about 5 minutes or so before we were seated. The place had a nice lively vibe to it and the wooden tables added to the charm. The menu had a good selection of dishes and for a group of 7, we ordered the following.
Fried Calamari: batter fried calamari rings served with chipotle sauce. These were super crunchy and were polished off in no time.
Chipotle Fish Skewers: grilled fish skewers coated with chipotle sauce and served with coleslaw. These were lip smacking delicious!
Cajun Chicken Marinara: grilled Cajun chicken breast on a bed of spaghetti tossed in marinara sauce. A tad bit spicy since it was for a child, but otherwise yum.
Grilled Glory Dory: grilled dory fillet with garlic herb rice and veggies. We ordered two of these and both were excellent.
Fiery Cherry Snapper with mussels : grilled snapper in Asian spice marinade with garlic herb rice and veggies. My friend, being allergic to shellfish asked for the mussels to be replaced with fish. Again, a good well defined dish.
Chicken of Liberty : grilled Cajun chicken breast with garlic herb rice and veggies. The chicken was slightly tough.
Veggie Wrap and Chicken Caesar Wrap : served with veggies and chips. We ordered these for the children and boy were they good. Especially the veggie wrap, didn't even feel like we were having a veggie wrap.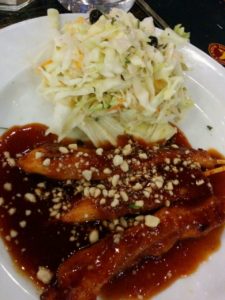 Along with this, we also ordered couple of blue lagoons and lime soda. The final bill came to around 4200 which is absolute value for money considering it was sufficient and more for all of us. We were so full that we gave dessert a pass. One big plus point is the portion size. The pictures on the menu do the dishes absolute justice, both in terms of presentation and portion size. Service was good too.
All in all, a really good meal with loads and loads of fun and laughter.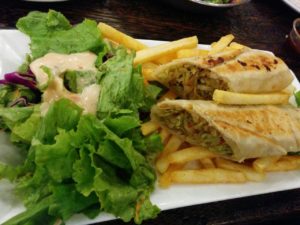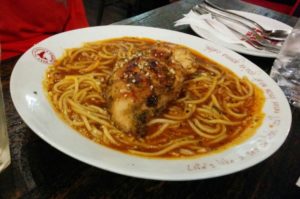 The Manhattan Fish Market
Address: 94, RK Salai, Mylapore, Chennai
Tel:  044 30853517
Cuisine: Seafood, Continental, American