We have passed by Tryst Café so many times while on our way to ECR. And dining here would never work out as the timings would be pretty odd. Finally, on a Sunday we decided enough was enough and drove down all the way from Chetpet just to have lunch here!
Visitors to the café have to pass through a cozy patisserie to reach the dining area. They have both indoor and outdoor dining space and both have a character of their own. The wood fired pizza oven is situated near the dining space outside and we did take a look at our pizza being baked. We were already late for lunch and ended up ordering the main course straight away.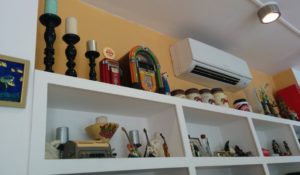 For the children, we selected a barbeque chicken pizza, and for ourselves a minced chicken burger and a grilled chicken pad Thai. And within 15 minutes, all the dishes were served together. The barbeque chicken pizza was delicious with oodles of cheese and the right amount of sauce and chicken and the children took extra helpings of the same. Its always a delight to see your children warming up to their food! As for ourselves, the pad Thai was made spicy and with grilled chicken instead of stir fried, just the way I had asked them to make it and the portion size was huge. And I had to really struggle to polish it off. The burger was pretty good too and again there was a generous helping of coleslaw and French fries. Coming to the service, the staff kept the children busy by handing them crayons and paper. And they even insisted that my younger one try the piano when she went to check it out.
The patisserie looked so inviting that we ended up ordering desserts (opera, lemon tart, eclair and apple strudel) as takeaways. The cost for the main course was around 1050 while the desserts came to 500, which is a pretty cool pricing considering the portion size.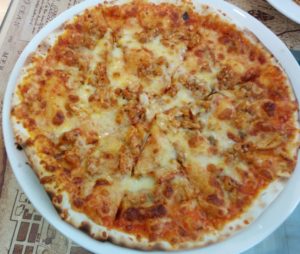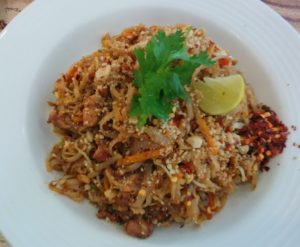 Tryst Cafe
Address: Gatsby Village, East Coast Road, Neelangarai, Chennai
Tel: 044 64575575
Cuisine: Continental, Café