A Godfather themed restaurant, The Padrino is located in Mylapore. We were here of lunch on a lazy Sunday couple of weeks back and the place was packed.
We were seated right away However, our table was at the back near the serving station which did seem a bit claustrophobic with the clutter nearby. And we could spot some cobwebs too on the window next to our table.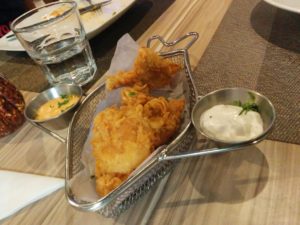 After having a look at the menu, we opted for a spinach Raviolo, chicken breast in mushroom and cream sauce, chak de pollo pizza and crispy Cajun chicken. The chak de pollo pizza had a Punjabi tandoori chicken topping and was wolfed down immediately by the children along with an iced tea. The Raviolo, though veg with a filling of  spinach, herbs and ricotta cheese was cooked to perfection. The sage and asparagus sauce that the ravioli came smothered in was perfectly balanced and well, I fell in love with it. The pollo al funghi or chicken breast in a creamy mushroom sauce that my husband ordered was also nice. However, you could feel it needed something more to bring in that wow factor. The Kentucky style fried chicken was super crunchy and delicious.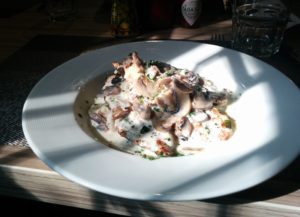 Coming to the service, the person who took the order was a professional, but the person who served the pizza definitely needed more skill. The outing set us back by INR1800 or so which is slightly on the higher side considering the location. Overall, The Padrino is a nice place to try some Italian with The Godfather looking down on you!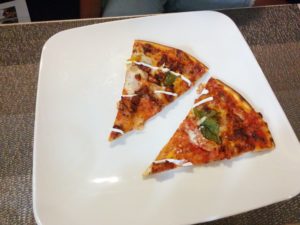 The Padrino
Address: 113/114, PS Sivaswami Salai, Mylapore
Tel: 9500047578
Cuisine: Italian