Concorde Hotel is located in Jalan Sultan Ismail, near the iconic Petronas Towers and the KL Menara Tower. The Kuala Lumpur International Airport is just about an hour's drive from this hotel. We stayed here for 4 days and were very impressed with the facilities and service.
We zeroed in on Concorde, a 4 star hotel after a detailed search through www.booking.com . Since we were on the look out for a comfortable hotel situated in the Golden Triangle, this one seemed to tick all the right boxes. The hotel facilities include 5 top notch restaurants, an outdoor pool, poolside bar, gym, a business centre and conference space. We made the booking ourselves through an online portal without the help of any agent. The entire booking process at www.booking.com was a breeze.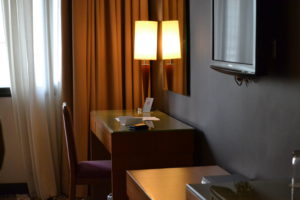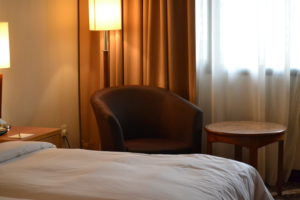 Our flight was at a comfortable time unlike last year and we reached the hotel by around 3pm. The entire check in process took under 10 minutes and the lady who completed the paper work gave us an overview of the facilities available at the hotel. Our room overlooked the pool and had a good view of the Petronas Towers. What more could one ask for? The room was quite spacious and was equipped with all the standard amenities like flatscreen TV, wifi, tea and coffee maker, minibar and safe. The private bathroom came loaded with the necessary toiletries.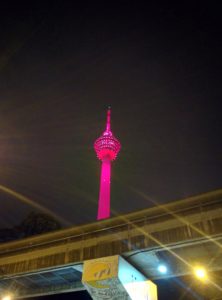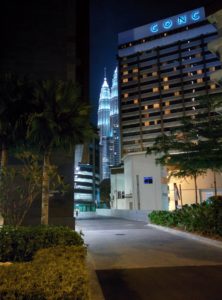 (right next door!)
The breakfast buffet at the hotel is complimentary and starts as early as 6am. It is quite convenient when you have travel plans that start off early. And the buffet has a massive range of items that you tend to get slightly overwhelmed! Trust me, we were! We tried the hotel's room service on a day we were all too tired to go out and experiment. However, that did take time and the club sandwich we ordered for the children didn't quite meet the expectations of our children who are really non fussy eaters!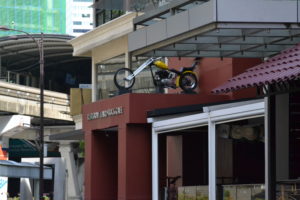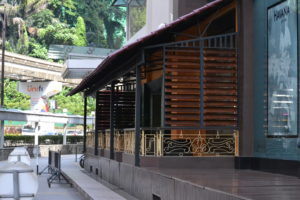 (the Hard Rock Café next door, the hotel has a dedicated side entrance to this café)
The folks at the bell desk are highly efficient and helped in arranging transport every time we were headed out. The biggest plus about this hotel is its proximity to all the major city attractions. Petronas, KL Tower and Central Market are all nearby. Moreover, there are so many lovely eating joints and watering holes between Concorde and Petronas that you  literally get spoilt for choice.
We actually stayed here for a day at first, then moved on to Langkawi for a couple of days and then came back here again. On inquiry, they had this option of a cloak room where we could leave most of our luggage for safekeeping. This really helped us to travel light to Langkawi! The second time around we got a room upgrade which was quite thoughtful of them. And on the last day of our stay, since our flight was in the evening, they gave us a late check out option. And what's more, they even allow guests to take a shower after check out if they want to! All these additional touches add value and warmth to your travel memories, if you ask me!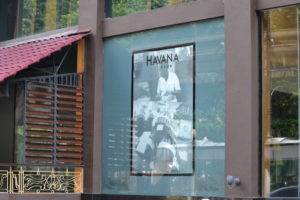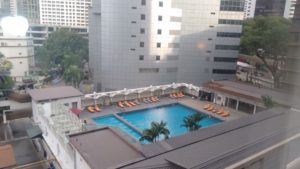 Coming to the pricing, we paid 300RM per day excluding taxes. The breakfast buffet was complimentary. And they didn't charge us for the children's breakfast even once. A nice warm touch if you ask me, considering even seven star hotels back home in India charge half the buffet price for my older child though she is only 11 and hardly eats anything!
All in all, this place was perfect in every aspect, nice rooms and facilities, nicer service and an amazing breakfast buffet. Above all, even though this is a huge hotel, they have that humane and warm side to them that ensures they have my loyalty. If I get the chance to visit Malaysia again, would I even look for another hotel? Absolutely not!
You can get more details of this hotel @ Concorde Hotel, Kuala Lumpur
Address: 2, Jalan Sultan Ismail, 50250 Kuala Lumpur, Malaysia
Tel: +603 2144 2200