Ceylon Bakers, the name itself makes one nostalgic for all those biriyani outings with my family as a child. Back then, our city outings followed a standard routine, breakfast at Udipi Ananda Bhavan, catch a movie at Shenoys, lunch at Ceylon Bake House or Hotel Luciya followed by a walk in Subhash park or Marine Drive. And the menu used to be standard too, if it was Ceylon Bake House it would be biriyani and if it was Luciya, lunch would be fish curry meals. And in between were those precious visits to Grand Hotel. Well, looks like I get my love for food and travel from my father 🙂
Coming back, we were in Cochin last week and saw a new outlet of Ceylon Bakers in Ponnurunni, Vyttila. The ground floor has more of a café set up with their bakes and pastry cases. The restaurant, on the first floor has a minimalist décor and modern, no fuss tables and chairs. The tables are arranged close together so you tend to overhear the conversations happening near you or rather around you 🙂 Anyways, the sole objective of anyone who makes a beeline for this place is food and not fine dining!
The menu was stylishly done and we ordered a chicken grill sandwich for our older daughter since she is not a fan of kerala porottas. Insane, I know! For ourselves, we opted for a chicken biriyani, porottas and chicken masala followed by two Sharjah shakes. The food didn't take much time to arrive and except for the sandwich and shake, food was lovely. The sandwich had huge chunks of grilled chicken which didn't appeal to her at all and she ended up keeping them aside! The Sharjah shake on the other hand had a chocolate flavor which is something you don't expect when you order the basic flavor. Otherwise, the shake tasted good.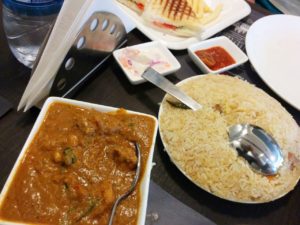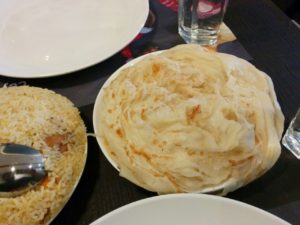 This was more of a nostalgia trip and though it didn't match those flavours I have filed away in my heart, it came pretty darn close. The whole outing came to just INR 660 which is a steal. Service is ok, nothing great!
So if you are in the vicinity and looking for some comfort food, head right here.
Ceylon Bakers
Cuisine: Kerala, North Kerala, Chinese
Address: Convent Road, Ponnurunni, Vyttila