While driving down to Kerala from Chennai, we either stop at Grand Estancia or Park Plaza to stretch our legs and grab a quick meal. Last Christmas, we decided to stop at Seasons restaurant in Grand Estancia as it had been a while since our last visit.
As luck would have it, they were not serving a la carte that day and had to opt for their buffet. Our last time here had been a disaster with lousy food and service. And we did think twice before decided to stay put and opt for the buffet this time 🙂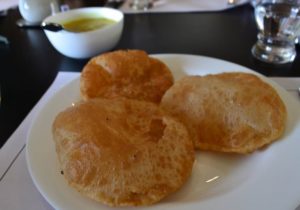 (poori bhaji from our last visit)
The breakfast buffet was priced at around INR 400 for adults. And surprisingly enough, the food and service was top notch this time around. The sausages and the South Indian chicken curry at the counter and the masala omelette prepared to order do deserve a special mention.
We loved the food so much we had breakfast here again on our way back a week later. And both the food and service met our expectations. It definitely looks like they have revamped the menu and their service is back to what it used to be earlier, top notch without being intrusive. The only issue if at all any (and I am nitpicking here) is that the bill does take a solid 10 mins to arrive.
After a good 45 minutes break, we were ready to hit the road refreshed and recharged. All in all, Seasons restaurant at Grand Estancia is a good place to stop for a quick meal if you are passing through Salem.
Grand Estancia
Cuisine: pretty much everything
Address: 349/3 Bangalore Bye-Pass Road | Narasothipatty, Salem , Tamil Nadu
Tel: 914272777770