So an outing with my girl gang was due and an online search for new restaurants in Nungambakkam had The Miner Diner on top of the list. Though I could find only two reviews of the same and whole menu was made of waffles and more waffles, we decided to experiment a bit and headed there on a weekday.
Tucked away on Anderson street in Nungambakkam, the place takes its name to heart. The spacious diner follows a "miner" theme right from the bare brick walls, lanterns hanging from the ceiling and tables with wheels attached to the graffiti and pictures adorning the walls. It sure feels like you just had a glimpse of "a day in the life of a miner". Even the ceiling follows the theme!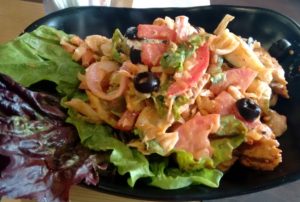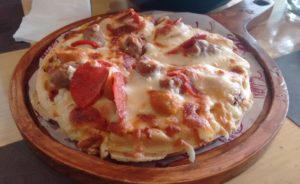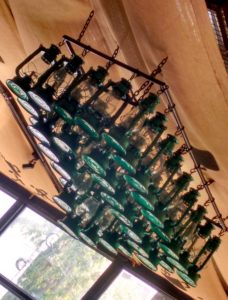 The menu was pretty vast with different permutations and combinations of waffles. Even the pizzas here use a waffle as its base. Without much ado, we opted for a wasabi chicken salad, chorizo and Texas barbeque waffle sandwiches and a sausage Americana pizza. A cappuccino and smoothies made of lychee and peaches rounded up our order.
The wasabi chicken salad with its Thai basil dressing was bursting with Asian flavours. This one is highly recommended! The chorizo waffle sandwich had a filling of grilled lamb chorizo, jalapenos, cheese slices and a mean jalapeno mayo.  The Texas barbeque waffle sandwich on the other hand had a filling of barbequed chicken strips, veggies, jalapenos, cheese slices and a dash of chipotle mayo! Man, never knew miners had such mean mayo combinations up their sleeve. The pizza, suggested by the staff was loaded with chicken and beef sausages, lamb chorizo and well, cheese! The food was definitely a blast and I loved how the sandwiches were plated. The waffle pizza was good too and surprisingly the waffle base wasn't soggy at all even with all that cheese loaded on it.
The smoothies however were too sweet and my friends couldn't take more than a sip. The staff did offer to replace the same, but we declined their offer. The cappuccino was fine though I would have been happier if they had some options for tea lovers. We did mention the same to them too! Service needs some fine tuning as well. When the staff cam to know that we were celebrating a birthday, the gave a complimentary chocolate waffle for us to cut and even some chocolates, a lovely gesture from their side.
The final bill came to  INR1550 and odd which is pretty decent and value for money considering we were stuffed and had to pack some home. The Miner Diner is definitely a place to hang out with your friends over some savoury waffles!
The Miner Diner
Address: New No.6, Old No.31, Anderson Road, Nungambakkam
Tel: 04428223700, 04448617400
Cuisine: Continental