Nestled away in a corner in the ground floor, Baker Café provides the much needed coffee break in Mall of Joy, Kottayam.
The children were super tired after the gaming session upstairs and since it was not yet time for dinner, we opted for this cosy café rather than the restaurant on the top floor. The place has comfortable seating and the doodles on the wall give this place a warm atmosphere. And the menu is just perfect for a café of this size.
We opted for couple of sandwiches and burgers along with ice tea coffee and tea. The food was nice, nothing great, but nothing to complain about too. Service, on the other hand has loads of room for improvement. The pricing is quite affordable too. Our final bill came to INR 1000 only.
So if you are tired after a round of shopping and gaming, do look up Baker Café for a good relaxing break.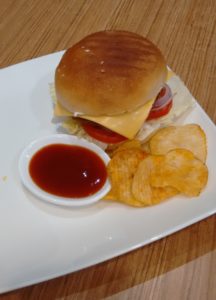 Baker Cafe
Address: Ground Floor, Mall of Joy, Kottayam
Tel: 04812586001