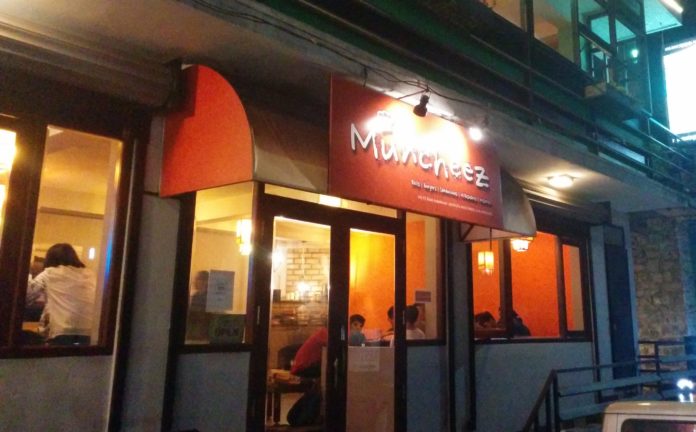 Muncheez, a place that was on the top of my "must visit" list from the time our trip to Kodaikanal was confirmed!
An institution in its own right, Muncheez started off as a small joint ages ago. The place was revamped recently and now offers indoor seating. With a casual lounge sort of feel, Muncheez also has a functional fireplace in one corner for wintry nights.
We were at Muncheez at quite an odd time. It was close to 6pm, definitely not the time for a proper meal. So we ended up ordering chicken and beef wraps as takeaways. The place was bustling with a large bunch of school kids and we decided to take a walk on PT road while the wraps were being readied.
We were back in around 10 minutes to discover that they hadn't even started on our order. The person at the counter was like "you can cancel if you want". And my husband was like, "didn't give an order to cancel it, now did we? " Truth was they were finding it hard to plate up all that the large group was ordering for. We opted to wait it out and waited a good half an hour for just 4 rolls. Guess, that says a lot about our commitment to food 🙂
Priced at 100rs each, these were easy on the wallet. And their packing is so nice (they do a final wrap with aluminium foil too) that the rolls were hot even after half an hour when we had them. And the rolls, oh boy, the wrap to filling ratio was unlike any I have had. The wrap was super thin and there was so much filling that I found it tough to finish one roll. And the best part, the filling was almost fully meat. And the taste, phenomenal.
Do drop by Muncheez if you are in the vicinity! I promise, you wont be disappointed.
Muncheez
Address: 144, PT Road, Kodaikanal
Cuisine: Pizza, Fusion, International