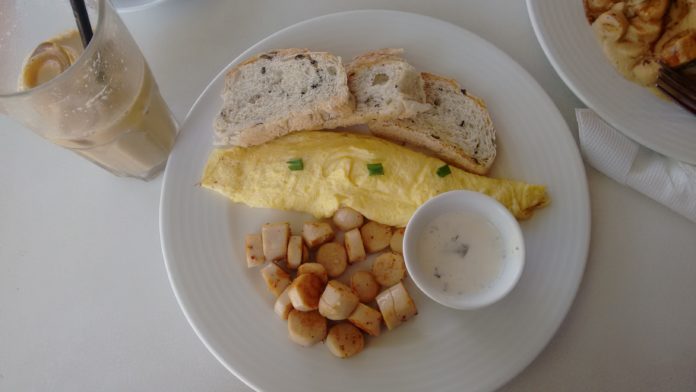 French Toast is a small patisserie nestled in a quiet corner of Panampally Nagar. The place has a décor typical of such cafe's with simple white furniture and minimalistic interiors. Little trinkets here and there along with posters of yester year musical legends add to this cafe's charm.
The place was crowded as it was lunch time. After finding us a table, we had a good look at the menu. The menu has all the usual suspects, varieties of pancakes, French toasts and eggs to order along with pasta cakes, pies, tarts and desserts. They also had pasta as the dish of the day. We settled for a French omlette with chicken sausages and cheese, olive bread French toast with sausages and cheese, classic chicken sandwich, English Breakfast tea, iced coffee and lemon iced tea.
The place being small, the owner herself takes the orders while another person mans the coffee station and the counter. So the whole process of taking your order and serving does slow down a bit. But then the main point of dining at a café like this is to sit back, relax and spend some quality time with your family. So yes, it did take some time for the order to be served.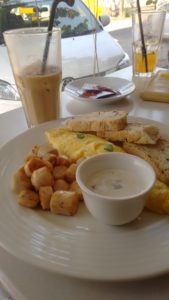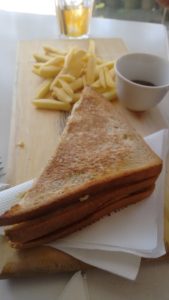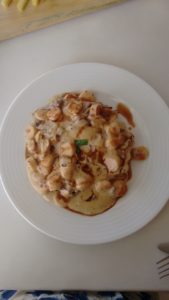 Coming to the food, the classic chicken sandwich had a side of fries. The filling had loads of chicken and my daughter was pretty happy with the same. The French omlette was done perfectly. Sometimes these tend to be overcooked or dry, but this one was just perfect. They sure do know how to make that classic 30 second omlette! My olive bread French toast was dunked in Mornay sauce and had loads of chicken sausages and mushrooms in it. The portion size was just too much for me and I had a tough time finishing it up. The home made tomato and chilli jam that accompanied this dish was quite a revelation. Though I have seen Jamie Oliver making this one on the telivision like most, I had never bothered to try it out. But not anymore. The addition of the jam just took the whole dish a few notches up!
As mentioned before service is a bit slow. The final bill came to 1200rs and odd. Though some might find it a bit pricey I found it to be ok considering the portion size. The sandwich however could have been priced a bit lower or maybe they could have decked it up some more. So, if you are looking at spending some time over some yummy food, this is definitely the place to be.
French Toast
Address: 8th Cross Road, Panampally Nagar, Ernakulam
Tel: 0484-4061618
Cuisine: Continental, Cafe