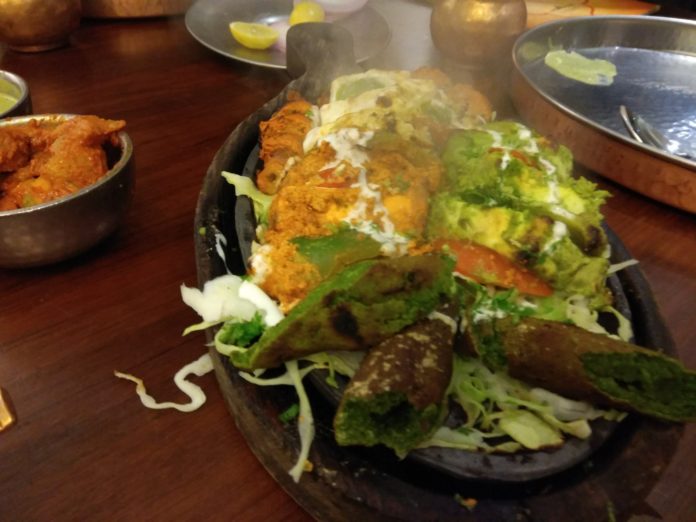 We didnt have a particular place in mind for dinner last Sunday. And we were aimlessly driving around Khader Nawaz Khan Road at 8pm and came across Delhi Highway. We had tried their lunch thali at their Egmore outlet long back and decided to give this place a try.
As it was only 8pm, the place was only beginning to get crowded and we were seated immediately. The ambience and interiors are what you would expect from a typical North Indian restaurant. They have a fairly big menu on offer. After considering our server's suggestions, we opted for a sizzling platter to start off with and paneer lababdar and their signature dal with butter nans, tandooru roti and lachha parathas.
The sizzling platter was served without much delay and it consisted of tandoori paneer, paneer tikka and kebabs. The mint chutney served along with this platter and the standard onion, pickle set was fab. The Delhi Highway signature dal, black daal cooked overnight on a tandoor   and paneer lababdar, cooked in a rich tomato gravy were outstanding in terms of flavour. The rotis were all top notch too. However, I woud have liked a slightly bigger portion for the gravies! Somehow the quantity seemed to be lesser than the usual standard.
The service here is highly attentive. It is so attentive at times that you feel as if they want you to just gobble down everything and leave! And of course, the issue with portion sizes that I have already mentioned. However, there is no compromise on the taste and quality of the food they serve! The bill for all the above came to 2000rs which is slightly on the expensive side even for KNK standards. All in all, a mixed bag if you ask me!
Delhi Highway
Cuisine: North Indian
Address: New No:21, Old No:10, Wallace Garden 3rd Street, Off Khader Nawaz Khan Road, Chennai
Phone: 044 28330000/33/44