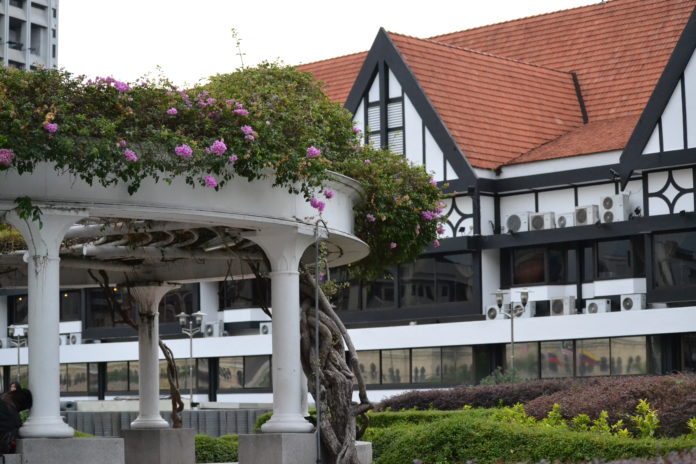 Kuala Lumpur, a city that has something for every traveler! We were here for 4 days last year and we loved the city.
This guide gives you information about fun stuff to do with your family in the city and also a heads up on a nice place to stay in and how to get around the city.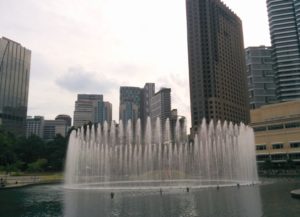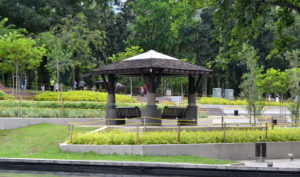 (KLCC and symphony fountain)
KLCC
The KLCC (Kuala Lumpur City Center) is a great place to spend time with your family while in Kuala Lumpur. The Petronas Towers, KLCC Park, KL Aquarium and Petrosains Discovery Center are all located here. We were staying at a stone's throw away so this was our favorite hang out place in the city.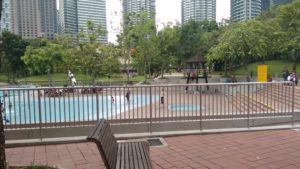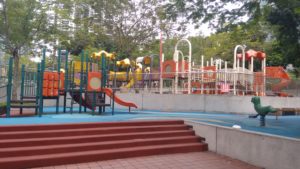 (KLCC playground and wading pool)
The KLCC playground is a massive 2 acre park with a playground, wading pool, jogging track and a symphony fountain. Every day, the Symphony Lake witnesses three musical fountain shows in the evening. Each show lasts for about 10 minutes and is a joy to watch. The park and the wading pool do not charge any fees and is maintained beautifully. Our children loved it here!
Petronas Towers
Also called Petronas Twin Towers, these are the tallest twin towers in the world. A double decker Sky Bridge at 170m connects the two towers at 41st and 42nd floors and is designed to slide in and out of the towers  to counterbalance the effect of wind at such an altitude. The view from up here is mind blowing, especially at night when the KL skyline lights up. While we were touring the skybridge, the symphony fountain show was on and it was just amazing to watch it from all the way up. We had to change elevators at this level to go up to the observation deck on the 86th floor. You get a close up view of the other tower's spire from up here. If you thought the views were the skybridge were stunning, you are lost for words after you check out the observation deck. The views from up here are simply breathtaking!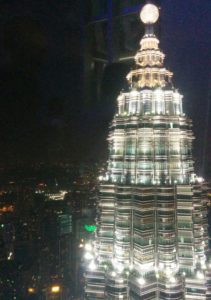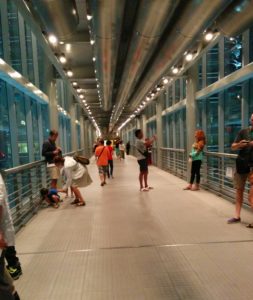 (the views from up here are amazing)
The authorities allow only a certain number of visitors to the skybridge and observation deck per day. So you need to either book your tickets in advance or come prepared to stand in queue. The tickets are priced at 85MYR for adults and 35MYR for children. All four of us thoroughly enjoyed this experience. Truly a once in a lifetime experience!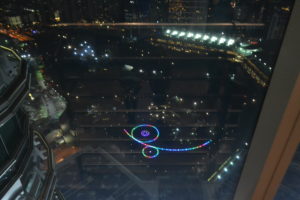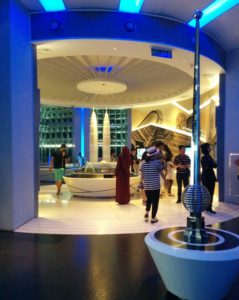 (the musical fountain below in all its glory and the observation deck)
Sunway Lagoon
Sunway Lagoon is a theme park located half an hour away from the city. You can spend the whole day here and not get bored. A small write up will not suffice for this place and you can read our detailed experience here.
Merdaka Square
Also called Dataran Merdaka, this square is located right in front of the former State Secretariat or Sultan Abdul Samad building. The flagpole holding the Malaysian flag here is the highest in the world at 100 metres. St. Mary's church, a picturesque English country church is situated to the north of Merdaka Square and is one of the oldest Anglican churches in Malaysia. The Royal Selangor Club is located right in front.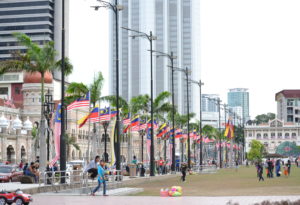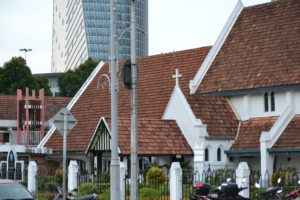 (Merdaka Square and the St. Mary's Church)
Central Market
Central Market, one of Kuala Lumpur's most familiar landmarks is located at a 10 minute walking distance from Merdaka Square. An art-deco style building, this place used to be a wet market till the 1980s. This place was later revamped and is now a cultural heritage site that offers shopping. The place has a nice mix of boutiques, handicraft and souvenir stalls and even traders selling authentic Malaysian batik prints. China Town is a short walk away from Central Market. We didn't venture out to China Town and just limited our shopping to Central Market alone as the place is less crowded and had a certain artsy charm to it!. The second floor offers a range of dining options and we loved the food here so much that we came back for a second time!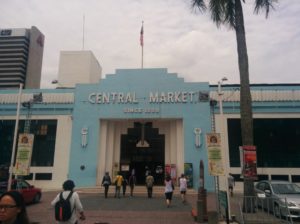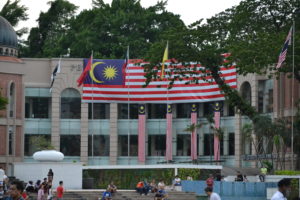 (Central Market and Merdaka Square)
Getting to and from Kuala Lumpur
The international airport is located at a distance of about 58 kilometers from Kuala Lumpur and is easily accessible via bus, taxi or train. The bus and metro/monorail system is quite easy to understand and use too. Taxis charges depend on their type, budget, premier or executive. While budget is the cheapest, executive taxis have more luggage space. It is easy and economical to get around in KL and the people are friendly and nice. Also, food is also available according to your budget at every corner. How many more reasons would you need to plan a visit to KL?
Stay
We stayed in Concorde Hotel during our visit to Kuala Lumpur. Located 5 minutes away from Petronas Towers and the KL Menara Tower, this hotel offers impressive service and facilities right in the heart of KL. We had a lovely stay here and our experience of the same can be found here.
Malacca, a UNESCO world heritage city is situated around 2 hours by road from KL and is ideal for a whole day trip. Do check out our experience of this city here.