Come Christmas, we undertake a road trip from Chennai to either Cochin or Kottayam. This time around we decided to head to Cochin. Below is a comprehensive list of the places we stopped at for breaks…
Hotel Tamil Nadu, Krishnagiri
We stopped here for breakfast on our way to Cochin on 22nd December, 2012. Though this place was in an urgent need of a coat of paint, it was kept spick and span. Also, there was ample parking space. At 9.00 am, the restaurant was filled to the brim with people on their way home for the holidays. Ordered 2 plates of iddly, 1 masala dosa, 1 plate of uzhunnu vada, 2 cups of tea and a bottle of aquafina….The food was fresh, hot and tasty. Total bill came to 139.34….The tax, a meagre 2%!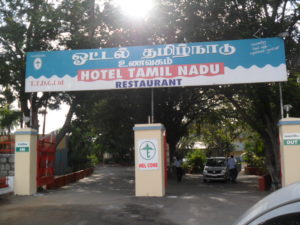 Hotel Srichakra, Palakkad
Every time we travel by road, we make it a point to take a break and have some tea at this place. And the food used to be nice. But this time we were in for a real shocker. We reached this place by 2.30pm on the 22nd. The restaurant was packed and we thought we were lucky enough to get a seat.The place had a shabby look. It was clear that no maintenace had been done for quite some time. But even after 15mins, nobody came to take the order or even serve water. When we slowly started looking around, we noticed that every diner seemed to be restless, irritated and waiting for their food to arrive. Finally, after 20 minutes, a person came to take our order. Right when he was saying the food will be served within 15 mins, a diner stting at the next table strode up to him and started asking about their order which was placed 45 mins back. We then asked the staff to tell us honestly whether he will be able to serve us anything after 15 mins, he gave us a blank, helpless look. And our neighbour quite seriously told us to "Escape while you still can" 🙂 We decided to give this place one more try while on our way back on the 31st. This time, the hotel guests were waiting for their breakfast buffet. Though this time the service was faster, the only items available on the buffet were cornflakes, toast and dosa with sambhar. The dosa and sambhar was good. After a pot of tea it was time to pay the bill and hey presto, the person managing the billing had not yet come. Total cost came to 200 (which explains the pathetic buffet, sigh!).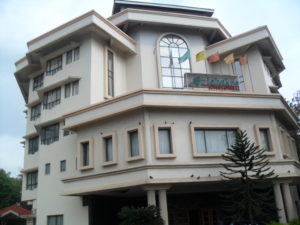 On our way back from Cochin to Chennai, we stopped at the following places.
Hotel Shevaroys, Yercaud, 30kms from Salem
We were all famished by the time we reached yercaud and decided to have lunch at this hotel. Since its a small place, all major hotels and restaurants are located quite nearby.This hotel has a catering college attached to it….we could see a lot of enthusiastic trainee staff at the restaurant. Our order was taken in a jiffy even though the place was crowded. The place had a decent decor and english music was playing in the background. The food was served within 10 – 15 minutes. We had ordered 2 plates of chicken fried rice, butter chicken, steamed rice and sambhar (yes, my older daughter is a vegetarian…sigh!)…The chicken fried rice was the super and perfect Indo Chinese. The butter chicken was yum and vanished within no time…The sambhar and the rasam accompanying the plain rice was piping hot and perfect for the cold weather…Total bill along with mineral water and VAT came to 513.
Hotel Grand Palace, Yercaud
Stayed at this hotel on the 31st of December. The deal included all three meals, lunch, dinner and breakfast the following morning.Since we had already had lunch from Shevaroys, we didnt have lunch from this place (the hotel staff was kind enough to waive off the amount for lunch from the final bill). New year preparations were on in full swing when we were checking in. By 7.30 – 8.00, the buffet was ready and my my what a spread. The main reception area had been converted into a bread, salad and dessert counter. The Orange restaurant had an array of main courses but the surprise and the highlight were the stalls put up on the lawn. There was a live kebab counter, chinese, south Indian and pasta counter. Not to forget the roast turkey counter. The chilly weather was an added bonus. The flavour and freshness of each and every item in the buffet was mindblowing for a restaurant in a small town like this. My only issue was the Tiramisu and fruitcake in the dessert counter….guess they got the names wrong or something, it definitely was not tiramisu or fruitcake 🙂 The new year buffet came to 2500 for a couple. The breakfast spread was lovely too with an array of continental and south indian items. Service was attentive and good.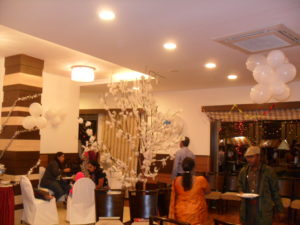 Café Coffee Day, Kanchipuram
This is the last of the reviews from my road to trip to kerala… Last stop while coming back to chennai was at Cafe Coffee Day on the Kanchipuram highway. I was really surprised to see a CCD outlet at such a remote location. To be honest, I was wondering who on earth would come to this outlet, but was surprised to see the place crowded with students at 11.00 in the morning…and they had just opened shop! Ordered assam tea, mango shots, hot n spicy chicken puff, samosas and a nutty fudge brownie. Service was a bit slow due to the crowd, otherwise everything was fine…The puffs and samosas were fresh and hot and the teas was good….The kids loved the mango shots and the brownie. The tea was good too but the quantity was too much…and couldn't finish it! Got my answer when I saw the bill, the outlet is close to a medical college 🙂