My sister and myself were at the Abad Food Court in Bay Pride Mall recently with our children and we ordered a bucket of fried chicken for the children from Marry Brown, chilli chicken with fried rice meal combo from China Town and Travancore Chicken Dosa and Idiyappam with kerala roast chicken combo from Potpourri.
We have been going to this place from the time the mall came into existence and the food has never been this bad. Barring the fried chicken of course. I could eat only half of the dosa as it was dripping with oil from the chicken filling and the accompanying chutneys were also average at best. The idiyappam was definitely reheated and the chicken pieces in the curry were too tough to pass it off as the reason for the frying that happens in a roast. The fried rice was good but the gravy accompanying it was just about ok.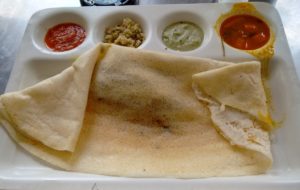 Would I go back again to Abad Food Court for the food? I don't think so. But would I go back for the view? A thousand times yes!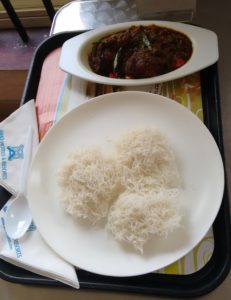 Abad Food Court
Address: Bay Pride Mall, Marine Drive Cochin
Outlets: China Town, Potpourri, Marry Brown