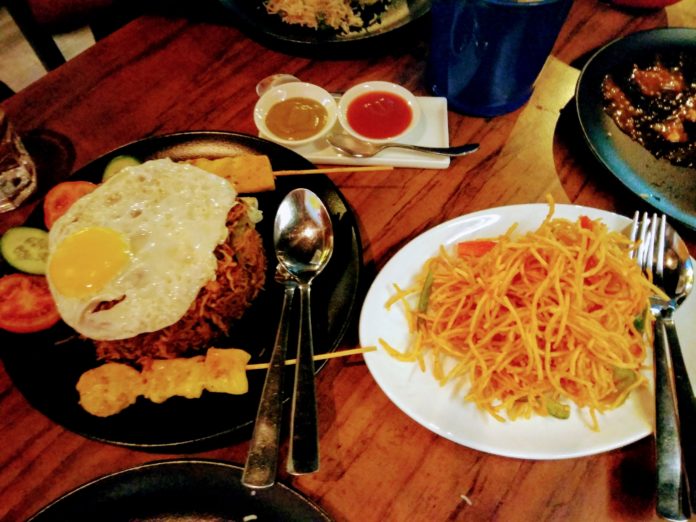 We decided to check out Orange Wok last month after seeing a a number of favorable reviews online. This place is a recent addition to the slew of restaurants in Khader Nawaz Khan road.
We had made our reservations in advance and hence were seated almost immediately. This is a medium sized restaurant with orange lighting and eclectic decor. A bit understated for KNK road, I must admit.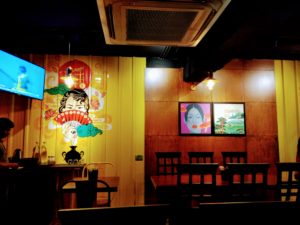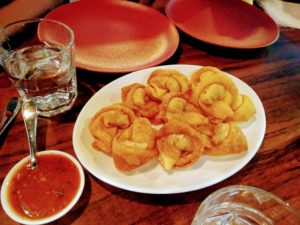 The menu here is vast. You actually feel a little lost seeing so many of your favorite items from different Asian cuisines on the menu that you find it hard to choose! We did take time to finally arrive at our order of chicken fried wontons, fried noodle salad, nasi goreng, chilli garlic chicken friend rice and Mongolian style braised chicken. We were about to order more when the staff taking our order suggested that this itself might be tough to finish as portions are generous!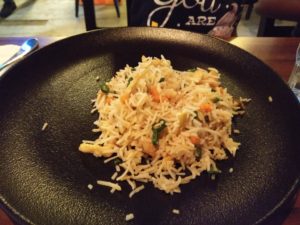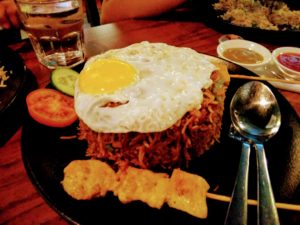 The chicken fried wontons, tossed minced chicken wrapped in Chinese pastry sheets and deep fried were super crispy and polished off in no time. The Indonesian nasi goreng  served with chicken satay and fried egg was spot on. Though presented in a sophisticated way from how its usually served, this one was close to the original as it gets. The chilli garlic chicken fried rice was amazingly delicious, the flavors were just right. The Mongolian style braised chicken n the other hand was quite insipid compared to the rest of our order. One thing worth mentioning is the portion size here at Orange Wok. Like the server had suggested, the portions are quite generous and we had quite a bit left over from our lunch!
The service here was faultless. Attentive, courteous while at the same time not too intrusive, just the way it should be. The cost of our meal was an absolute shocker too. It came to around 1200rs only. Considering the location, this is absolute value for money!
All in all, Orange Wok is a nice little restaurant to visit if you love your Asian food!