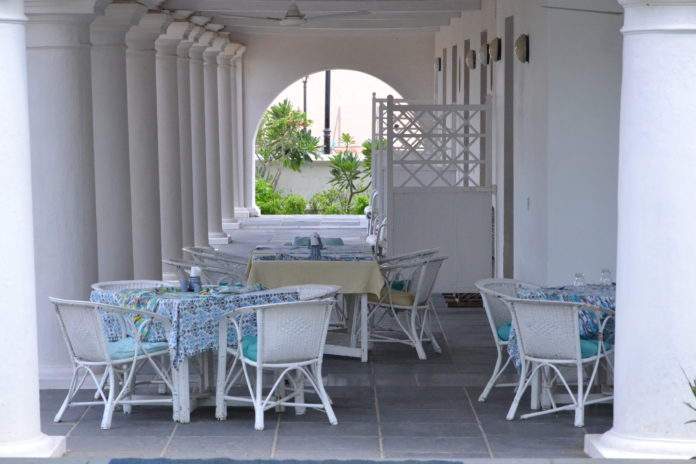 An 18th century Danish colonial house, The Bungalow On The Beach was built in the 18th century by the Danish East India Company. This property  was restored to its former glory by Neemrana and now stands proudly with the tagline "a non hotel" and that is pretty much as close as it gets to reality.
As the name itself suggests, this property is a bungalow situated right on the beach. As a result, the views are just nothing short of spectacular. On one side you have the Dansborg Fort and on the other, the sea in all its glory. Only a small garden and fence separate the bungalow from the rocky shoreline. This bungalow has 11 rooms, each with a distinct yet exquisite character of its own. The rooms downstairs have a lovely garden view. Every room on the first floor (where we were staying) is equipped with a couple of cane chairs and a table n the verandah. And screen partitions between each of these settings gave enough oprivacy for the occupants. You just have to sit back and enjoy the view for as long as you like. Each room comes with the standard set of amenities like mini bar, desk, private bathroom, regular toiletries and a vintage four poster bed. Almost all of the furniture in these rooms have been collected over the years and painstakingly restored and the effort does shine through.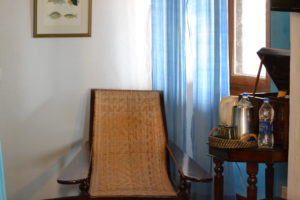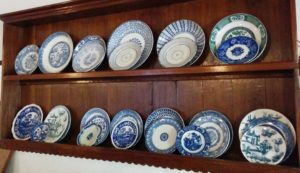 We were staying at the Queen Anna Sophia room and the theme for the same was sea blue! And being a corner room, we got the best of both worlds, with the sea on one side and the Fort on the other! Room service is quite good with our requests being attended to within 5 to 10 minutes.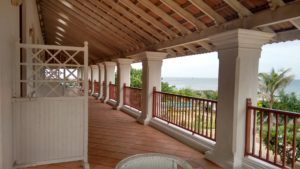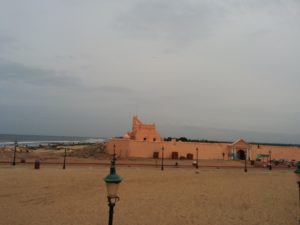 The swimming pool here is beautifully maintained. To sit by the pool and soak in the surroundings with a book in hand, its pure bliss. We had our meals by the poolside and at night the setting is almost ethereal.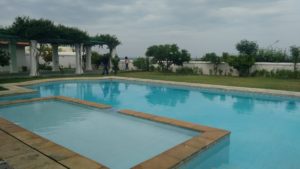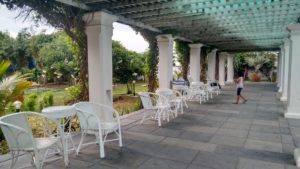 Coming to the food, breakfast buffet and evening tea was included in our deal. For lunch and dinner, we had a set menu to choose from and the order had to be given way in advance as its a small establishment. More on the restaurant food and service can be checked out here .
In hindsight, we loved every second of our stay here. The place is just too beautiful to be true. Though the room is priced slightly on the higher side, it was totally worth it. The service is good and so is the food, but the beauty of the place just had us under a spell all the time. Truly, a page out of a worn out yet well loved novel!
Bungalow On The Beach
Address: 24, King Street, Tharangambadi, Nagapattinam – 609313