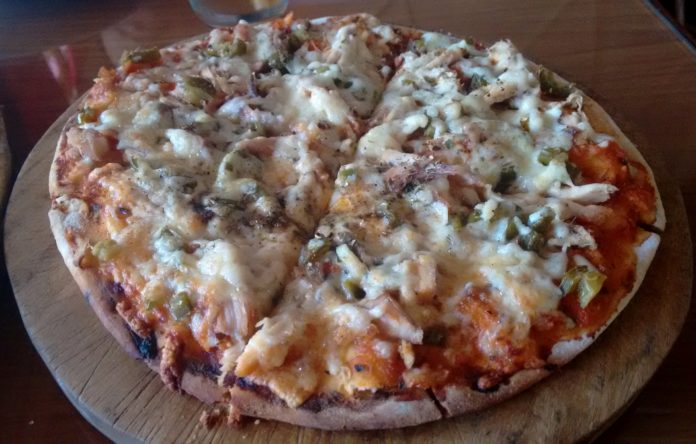 Cloud Street, a place I am still confused as to how to review! I had added this place to my list after seeing the amount of 5 star reviews online. We made it here for lunch on a weekday after a healthy round of sightseeing.
The café is situated on the first floor of a nondescript building on PT road, not too far away from the lake. As it was lunch time, we did have to wait a good 15-20 minutes before we could be seated. The café consists of a fairly large room with a good number of tables with cane chairs set around bookshelves, a billing counter and a cosy corner for artists to perform on song nights. The windows are , yet closed while even though the ceiling is of double height, the metal roofing makes it warm inside the café. Cane chairs and old fashioned sofas exude an old world charm to this place.
After having a good look at the menu, we ordered for an 8″ chicken and jalapeno pizza for the children and a 12″ steak and onion pizza for ourselves as their USP is a wood fired oven. The children also ordered couple of iced tea to go along with the pizza. Now there was a huge group of children seated next to us, so our order took some good time to arrive. The thin crust pizzas came loaded with their toppings, cheese and sauce and were excellent. However, did they have a "wow" factor to them? I am afraid not. And we ended up leaving the place without ordering any dessert.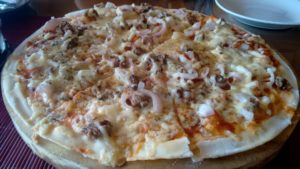 As its a family run enterprise, this place is totally informal. Same goes for the staff. And the cutlery is full on old school, reminded me of the Indian Coffee Houses we have back home in Kerala. The place had a nice vibe to it, yet somehow didn't quite really match up to the expectation the online reviews had built up for it in my mind.
Our lunch order came to 880rs which was quite economical. However, would I go back for more? I doubt.
Cloud Street Cafe
Address: 1st Floor, Opp. Govt. Tourist Office, P.T. Road, Kodaikanal
Tel: 04542246425
Cuisine: Italian, Pizza, International