We stay close to this outlet of Wangs Kitchen and had been here a month right after their opening. However, almost everything, right from the food to the service was average at best then.
Couple of weeks back, we tried Wangs Kitchen again. Since we were totally rushed for time, we ordered the food and made it crystal clear that we need everything ready within 15 mins. We reached on time and only two other tables were occupied and they were winding up. We were served the starters the moment we were settled in and everything followed in a timely fashion. And service was top notch too considering the limited number of diners. We had ordered fried wontons, fried rice, a side dish and American chopsuey and the bill came to INR900 and odd.
The place seems to have picked up a lot from its initial teething issues, but be warned, its your regular Chinese takeaway food! So if you don't set your expectations too high, you get by just about fine.  However, I wonder how it will be during rush hour with their limited number of staff.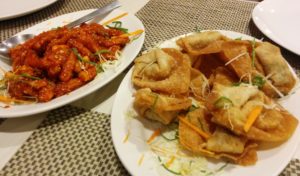 Wangs Kitchen
Address: 9, Harrington Road, Chetpet
Tel: 044 39253925
Cuisine: Chinese