A quirky café located just above Cake Walk on Sterling Road, Crisp Café has been on my wish list for quite some time.
Ambience
Crisp has a nice view of the Railway Club and the quotes on the walls give you a warm fuzzy feeling. On the other hand, being a café, the menu is quite small and we quickly decided on our order of herb crusted chicken, Jamaican grilled chicken, meatlover's mix and a chicken club sandwich.
Food
The herb crusted chicken was served with a barbeque aioli. The chicken was crisp on the outside and soft inside and was perfect when had with the dip. The meatlover's mix consisted of grilled chicken, lamb chops and beef and was served along with roasted veggies, mashed potatoes and a lip smacking pepper sauce. Plated beautifully, the mutton and chicken were cooked perfectly. The beef however was too well done for my taste. The Jamaican grilled chicken also had the same accompaniments and was quite good. The club sandwich could have been better though. The balance between chicken and cheese was a bit off and the kids left it halfway. The fries accompanying the sandwich were polished off in no time though.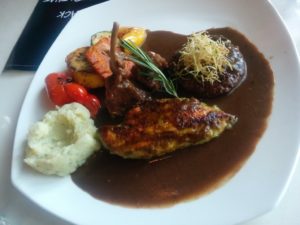 Service
The final bill came to INR 1345. Service was a bit slow even though the place was not crowded. Overall, Crisp Café is a nice quirky little café to spend some good time with your friends.
Crisp Café
Address: Kothari Road, Sterling Road, Opposite Sterling Club, Nungambakkam, Chennai
Tel: 044 30205586
Cuisine: Café