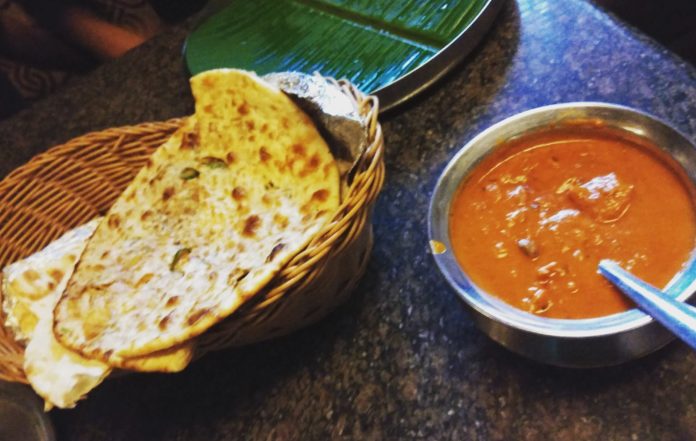 Hotel Karaikal Chettinad is situated in Ulundurpet on the Trichy Chennai national highway. It is hard to miss this one as this fairly large restaurant is located right near the Ulundurpet toll gate.
This restaurant has both ac and non ac sections. The ac section is done up quite well and super neat. The lighting was a bit low to our liking. We ordered for chiclli chicken, butter chicken masala, chicken keema parathas and naans. The cutlery is basic and the food is served on steel plates covered with banana leaves. There ends the averageness of this restaurant. The food is just amazing to see the least. In all these years of road travel, we have never had a more satisfying meal in terms of flavor and quality! And that says quite a lot about their food! We usually rush through our meal when on the road but this time around we stayed back and ordered a second round of naans and chicken parathas. It was that good!
The restrooms are maintained properly too. A big plus considering this is a highway restaurant. And there is ample paring space. The total bill for the same came to just about 645rs. Needless to say, Hotel Karaikal Chettinad comes highly recommended from us. So if you are traveling on this highway, make sure to have a meal here!
Hotel Karaikal Chettinad
Address: Trichy Chennai National Highway, Near Ulundurpet Toll Gate, Senguruchi – 606115
Phone: 04149 – 222775