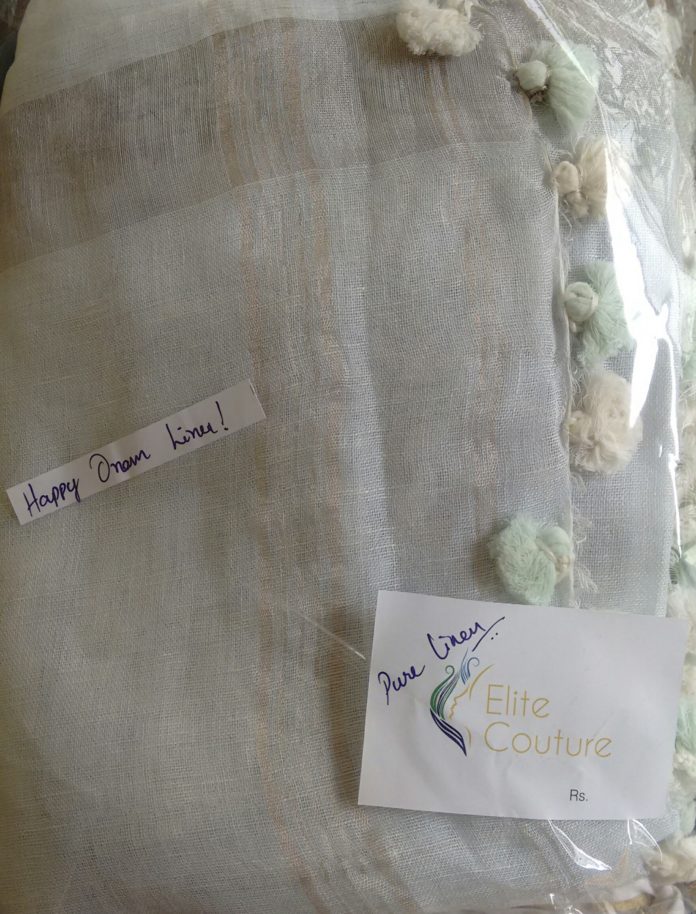 As a small time home baker, I probably say the phrase "Thank You" multiple times a day. I end my official calls to my suppliers, clients, domestic help and even potential leads for just getting in touch with me with a Thank You. I don't even have to think twice about this phrase as this is something deeply ingrained in me. Yet, I do not use this sacred phrase loosely either. My father had drilled this in early on along with the admonishment that you should truly mean it when you use these two simple words together  and more importantly that it should be followed through with a sincere look in the eye or a firm yet warm handshake.
So I had received this achingly beautiful sari as a surprise Onam gift from this regular client turned dear friend a week back. And the message simply read "Happy Onam Linu!" To say that I was shocked and in awe all at the same time would be an understatement. And I messaged her saying she is crazy  to even think of sending a precious gift like this. Of course, I didn't call her. I would have choked up and blabbered anyways. And then she replied, "Its just that the sari reminded me of you when I bought it. Simple and pure! Hence, sent it to you!" And I sat down and cried.
For she doesn't know how much of a sentimental fool I am. As it is, I still wear a 17 year old sari gifted by my father for Onam even though its torn and faded just because I like to believe he is hovering around me whenever I wear it. And this precious sari will be treasured no less and will be occupying the pride of place in my cupboard forever.
Though its been some days that I received this gift, I have been procrastinating on a proper gratitude post simply because I didn't trust myself to express myself properly in a post. There is something deeply personal about the same and I prefer looking a person in the eye while I am conveying the same so that the recipient clearly understands how genuine and deeply thankful I am. And then I chanced upon a wise saying today, "that feeling gratitude and not expressing it is like wrapping a present and not giving it!"
So lady, I just wanted to say, Thank You! I don't have to name you, you know who you are! Thank you for showing me that there are people like you in this world! And thank you, because you gave me your time, the most thoughtful gift of all!