As soon as the trip to Pondicherry was finalized, I started checking out new places to try out. After a whole lot of googling, I zeroed in on Carte Blanche, the dining space of Hotel De-L'Orient. I was intrigued seeing pictures of old world maps and the Creole cuisine, a blend of South Indian and French cuisines.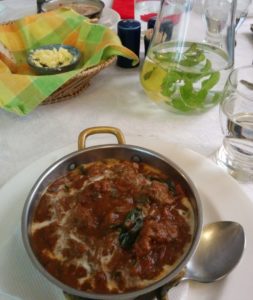 Ambience & Food
After finishing up all the shopping scheduled at Mission Street and the Paper Factory, we headed over to this place by around 2.00pm on Saturday. And the place had a deserted look. The staff were surprised to see us and they mentioned they don't get many visitors during off season time. By this time, hubby was doubtful whether the food would be good. But the décor was too charming to miss. So we stayed put and went by the staff's selection of grilled squid with garlic and herbs for starters and portions of beef and chicken creole curry. Both the curries were accompanied with rice and one could opt for regular rice or jeera rice. The Creole chicken curry had a creamy cashewnut sauce and was an excellent choice for the children due to its subtle spice level. It almost reminded me of the chicken stew we make back home. The Creole beef curry with tomatoes in it was a different story altogether. This dish was definitely the star of the show and vanished within no time. I have no clue how to describe this curry since this is my first having a Creole curry! All I can say is, we ended up ordering one more portion of rice to do justice to this dish. Same goes for the Calamar grille, a subtle play of garlic and herbs, and voila, you get a dish that sends you to heaven!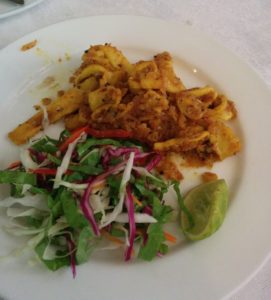 Service
A special mention to the awesome service and the price point. The meal was priced around INR1200 only. The framed maps on the walls gives the place an old world charm. I ended up looking up most of them and it was interesting to check out the Kingdom of Travancore and Laccadives was clearly mentioned as under the rule of Arackal Bheevi.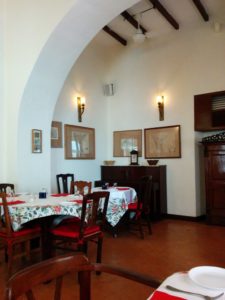 Carte Blanche
Address: Hotel De L'orient, 17, Rue Romain Rolland, White Town, Puducherry
Tel: 0413 2343067
Cuisine: French, Creole