This pizzeria has been on my "to visit list" for long. Finally made it to Tanto Pizzeria for lunch on Friday.
Ambience
The quaint garden setting makes you fall in love with the place from the word go And the Italian fare set against the backdrop of totally Indian cutlery is charming to say the least.
Food
The menu is pretty straightforward and we ordered a Margherita for the kids and a spicy vegetarian pizza with chicken as an extra topping. As we were seated near the wood fired oven, we got to see the pizza being made firsthand. What sets this one apart is how thin the dough is rolled out and of course the wood fired oven. The pizzas had a smoky flavour and were loaded with cheese and veggies. The kiddos finished the Margherita among themselves (which is definitely a first!). We also ordered an iced tea and a Tuna Steak (a special of the day). Though we had to wait some 15 minutes for the steak, the wait was definitely worth it. The accompanying salad was very fresh and the tuna was beautifully flavoured. The fries were ok at best.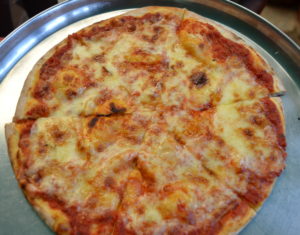 Service
Service is just about ok at best. As far as the pricing is concerned, its absolute VFM as all the above and two bottles of Sprite cost just INR1200 and odd. All in all, if you are visiting Pondicherry, Tanto Pizzeria should definitely be on your itinerary.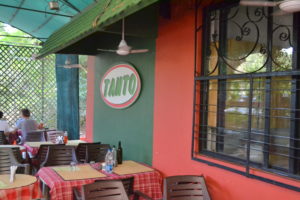 Tanto Pizzeria
Address: Main Road, Near Iyyanar Koil Kullapalyam, Auroville, Puducherry
Tel: 0413 2622368
Cuisine: Italian