After a tiring yet lovely walk exploring the heritage sites in Malacca city, we decided to take a break here at Bistro Year 1673. Located in the famous Jonker Street, this bistro has an open air courtyard that simply draws in you in with its old world charm.
The heritage building that houses the bistro was built way back in 1673 during the period of Dutch colonization, hence the name and the colonial influence in its architecture. The bistro has two more spacious dining spaces apart from the courtyard. However, we were too tired to explore these and made ourselves comfortable in the courtyard itself which gave us a nice view of Jonker street.
The bistro serves Asian, Chinese, European and Malaysian delicacies. As the children wanted something familiar to soothe their nerves after the long tiring walk, they opted for a Tandoori chicken pizza. Guess they were longing for Indian flavours! While the husband decided to try out their wok fried chicken with dried chilli which was heavily recommended, I opted for a mamak fried noodle. A couple of Carlsberg beers for the husband and cokes for the children rounded off our order.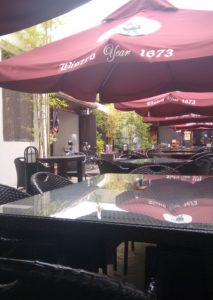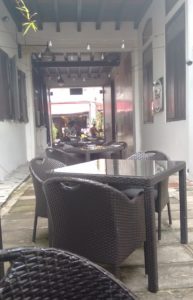 The wok fried chicken with dried chilli was a lovely mix of stir fried chicken, cashew nuts, dried chilli, hot bean paste and spring onions and was served with a portion of rice. The fried noodle on the other hand was made of prawns, squids, fish cakes, bean sprouts and mustard leaves and boy, was I in love! The flavours were literally bursting in my mouth!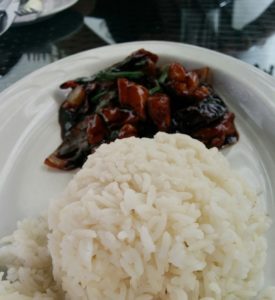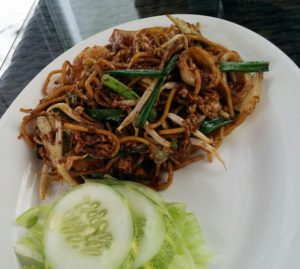 Service leaves a lot to be desired though. It took forever for them to serve our order. Also, the portions were slightly smaller than what we were used to Kuala Lumpur. The bill came to 100MYR, quit reasonable for the ambience though I would have loved faster service.
So if you are in Malacca and looking for a place to unwind, head straight to this Bistro Year 1673. The food and the ambience wont disappoint you for sure!
Bistro Year 1673
Address: 18, Jalan Jonker, Malacca
Tel: 06-288-1673