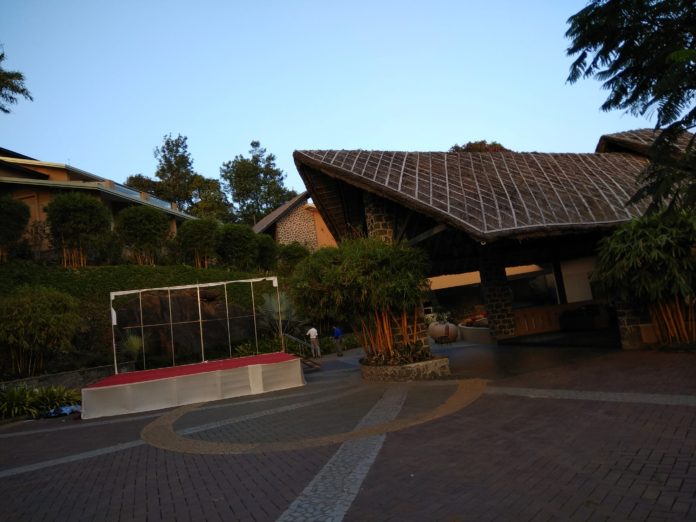 We stayed at Poetree Sarovar Portico in Thekkady on the first of January and it sure was  a memorable experience for us. We decided to have a stopover in Thekkady this time around as it was New Year and there was still couple of more days left for children's school reopening.
Ok, first things first! This resort is located far away from the huslte and bustle of Thekady town. Nestled on a mountain side, the approach road to this resort literally gives you the nightmares!. In fact, half way up and we were thinking of turning back, the road was that bad! Yet, we decided to be a little bit more courageous and trudged on and lo and behold! The view that welcomed us from the lobby was just breathtaking! You can see the signal tower near the Periyar Tiger Reserve as a tiny dot among the mountains, though it is hardly 8 kilometers away. Upon checking with the staff, we found out that there is alternate route to the resort which though a bit more long winding was comfortable! And we decided to take the same henceforth.
The staff welcomed us warmly and we were soon shown to our room. And oh boy, the view from our balcony was again mind blowing! You don't feel like leaving, ever! The resort has an infinity pool , a gym and a game room. It also houses Kusini, a multi-cuisine restaurant that serves lovely food. There is also an amphitheater with enough space for a campfire. The children had a great time in the pool followed by a lovely yet exhausting trek to the mountain top. There is a cross installed on top, and hence the name "Kurisumala" for the mountain. Again, you are just blown away with the view! And the silence! Perfect place for a small family trek, if you ask me!
The Poetree Sarovar Portico has a huge terrace and the breeze here in the evening is phenomenal. The small yet quaint reading room next to this terrace is a nice touch. The girls loved this space! You could just sit peacefully on the terrace and soak in the view for ags and you wouldnt get tired! We weren't! We stayed here till dinner time and then attended the classical dance performance arranged for the guests by the poolside.
Service here is warm and inviting. You really feel welcomed at this resort. The review of the restaurant can be read here . Overall, this resort is a lovely place to unwind and relax. And as it is located away from the town, you are at peace with nature!
Poetree Sarovar Portico – A Sarovar Hotel
Address: Ottakathalamedu, Amaravathy P.O, Near Amaravathy School, Thekkady , 685509