We were staying over at Poetree Sarovar Portico in Thekkady on New Year's and had an opportunity to check out Kusini, their restaurant for both breakfast and dinner.
Kusini, which means kitchen in Malayalam is the main restaurant at Poetree Sarovar Portico. With ample seating and a view to die for, this restaurant is located one level below the reception. Both a la carte and buffet are served here. For dinner, we opted for room service for the children as they were bone tired after trekking their way up to Kurisumala. And once they were done, we walked up to the restaurant for dinner. Both the children and my husband opted for naans and butterchicken while I decided to try their chicken steak. My steak was quite nice with its side of grilled veggies and mashed potato served with a pepper sauce. However, it took forever to be served! And the naan and butter chicken were nice too. However, the gravy could do with a little less saltiness.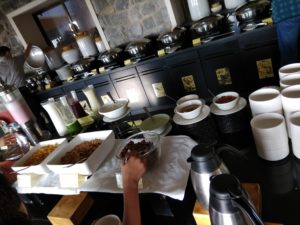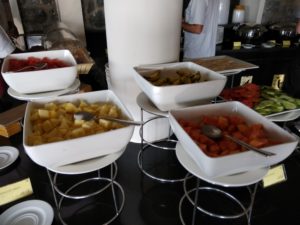 The breakfast buffet offers a nice vegetarian and non vegetarian selection. And of course the quintessial puttu and kadala curry since we are in Kerala! The service here is quite good. And though understaffed and over worked, the staff here are higly committed!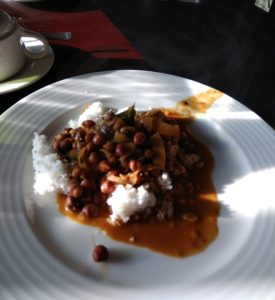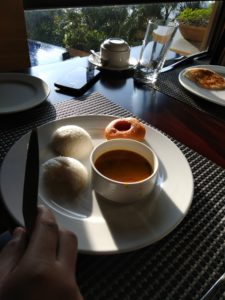 The breakfast buffet was included in the package. The dinner, along with the evenign tea we ordered by the pool, came to 1500 or so which is quite economical considering the location and the resort.
So all in all, the food served by Kusini at Poetree Sarovar Portico is quite nice and affordably priced.
Kusini, Poetree Sarovar Portico – A Sarovar Hotel
Address: Ottakathalamedu, Amaravathy P.O, Near Amaravathy School, Thekkady , 685509